Introduction
We are a Union of rural women whose organization was established in November 2001 and was registered as a union in May 2003. It is a non profit, non governmental, apolitical and non partisan organization. The organization aimed at improving on the living conditions of rural women through empowerment in information dissemination on sustainable agriculture, live-stock, human rights and its violation in their community, hygiene and sanitation. Micro financing to enable access to credit. We carry on capacity building and educational programs through training and sensitization, to create awareness and promote a gender and development approach in rural communities in Cameroon most especially as they are the vulnerable group.
The union is made up of 26 groups of women with 248 registered members in the pilot centre in Bali and over 200 members in the other centres.
The organization has carried on information dissemination through reading and translating the LEISA (Low External Input and Sustainable Agriculture www.leisa.info) magazine from ILEIA (Centre for Information on Low External Input and Sustainable Agriculture; Environmental Information) in the Netherlands to empower the women on sustainable farming practices.
We have also carried on training on food processing and are running some cassava processing mills which we acquired through the support of Rabobank Foundation in the Netherlands. We are equally carrying on a micro-credit scheme to empower the women economically and have trained them on their civic rights and responsibilities, food preservation, roles and responsi-bilities of a leader. The adult literacy classes are ongoing. They also had training on soil fertility management as the leader of the union acquired information from a seminar in the Netherlands on soil fertility management and sustainable agriculture through the support of CTA (Technical Centre for Agricultural and Rural Cooperation).
The BAWUFAG was a 2008 recipient of the Women's World Summit Foundation Prize for Women's Creativity in Rural Life.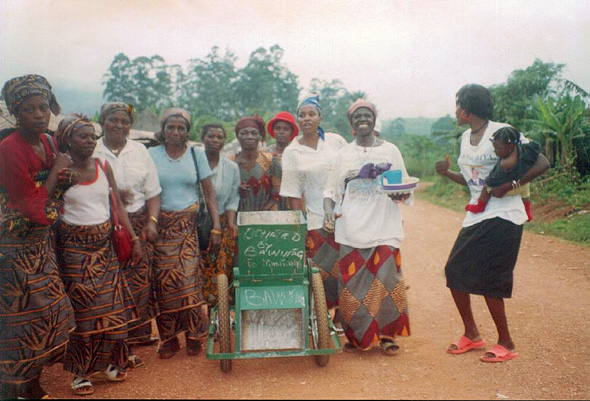 Our Vision
To alleviate poverty and misery in the Rural Community and to see a yielding respect of human rights.
Our Mission
To strengthen the capacity of the rural community through information dissemination, sustainable development, access to credit facility, education and equal opportunities, with other agencies and institutions.
About BAWUFAG President Azoadam Rebecca B. Juga
A native of Bali in Mezam Division from the North West Province of Cameroon, she is married and a mother of six. By training she is an educationist and a rural animator, with a bachelor degree in Education and in English language as a discipline, and a diploma in community development. She has worked with women's organizations for the past ten years. Apart from being the president of BAWUFAG, she is a member of the Fed Fed women (www.nkumufedfed.org), Ladies of Integrity, Dudum Sisters and the Kinder Lander Ladies, all in Cameroon.
The greater part of her time with women's activities has been given to the rural women be-cause she discovered that most of them especially in Camaroon were illiterate and mostly involved in agricultural activities. They believed they were missing something because they did not have such opportunities like those with white collar jobs.
Of course, these women had no access to information, credit facilities, owned no landed properties, nor say when men are seated, they did not attend official gathering because they felt relegated, they suffered from ignorance, lack of self confidence, and could not be found participating in developmental activities and above all in political arena. She decided to take up this challenge to sensitize the women who joyfully came together and today there are about 26 woman's groups in the North West, West, and South west province of Cameroon. President Azoadam Juga is thankful to God almighty for making it possible for International Alliance of Women (IAW) to recognize BAWUFAG.