Brief Herstory of the IAW
In 1902, the International Alliance of Women for Suffrage and Legal Citizenship was founded by leading American suffragists at a meeting in Washington attended by women from eleven countries.
A second meeting in Berlin, in 1904 formally constituted the organization under the name International Woman Suffrage Alliance (IWSA) and this met regularly until the outbreak of war in 1914.
At the Congress of 1926 in Paris the name was changed to International Women's Alliance, and a strong link with the League of Nations was established.
In 1946 the present name was adopted with the sub-title Equal Rights – Equal Responsibilities.
In 1915, individual members of IWSA from warring countries had met in the Hague and were instrumental in setting up what has become another highly regarded sister organisation, the Women's International League for Peace and Freedom.
Read more in the International Women's News Centenary Edition.
Our Banner
In its early days the IWSA held a competition for a design for a banner which was won by the Swedish affiliate, Frederika Bremer Forbundet with a design created and crafted by Licium, an enterprise still in existence. At the Congress in Stockholm in 1911 the banner was presented to the President, Mrs Carrie Chapman Catt, and it has since been displayed at every Congress.
On a facing of ecclesiastical brocade the sun-burst design is embroidered in silk thread, and in metal thread of gold, silver and platinum.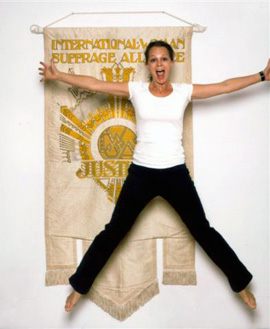 The back of the banner is embroidered with the following verse:
Translation: Edith Anrep
Rome Congress 1923
The IAW Centennial Scarf
Click on the image to see a larger picture
A perfect souvenir of our organisation, to be worn proudly at international gatherings of all sorts; an ideal present for members of our member associations.
Made of finest Egyptian cotton, printed with the IAW logo, name and dates in both French and English, a versatile 50x200 cm, the scarf can be wrapped and draped to suit the styles of all our nations. Price 5 Euros (includes packaging) plus postage. Bulk rates available on request.
To order scarves or centennial pins contact Hon. President Rosy Weiss at:
iawunvie@womenalliance.org
The IAW Centenary Celebration
1904 – A century of Commitment – 2004 to Women, to Democracy and to Humanity
Texts in both English and French, including the full CEDAW Keynote address by Beate Schöpp-Schilling, colour pictures of the ceremony in Berlin as well as texts and images from the IAW Exhibit by Bettina Corke.
Price 2,50 Euros (includes packaging) plus postage. Bulk rates available on request.
To order the centennial documentation contact Hon. President Rosy Weiss at:
iawunvie@womenalliance.org