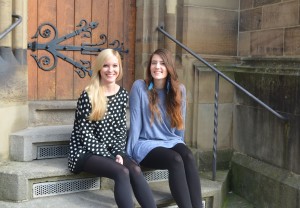 Liselotte van den Anker and Stefanie Barthel , project leaders at the Deutscher Frauenring e.V. (DFR), introduce: "Geschlechterrolle vorwärts" – a project that challenges the gender stereotypes imposed on men and women.
On the first of January 2015, the DFR launched, in cooperation with the men association Dissens e.V., a one-year project called "Geschlechterrolle vorwärts" (translation: rolling gender roles forward).  With a series of workshops across Germany this project tries to break traditional role patterns and to raise awareness for gender stereotypes. Men and women should be able to develop their strengths and talents regardless of their gender. Individuality should be embraced.
According to the CEDAW Alternative Report Germany equality in the society is closely linked to overcoming gender role stereotypes.  It is therefore necessary to adopt strategies to overcome the continuation of pervasive stereotypical and conservative views of the role and responsibilities of women and men.
Our project is based on the belief that men and women must work together in order to overcome gender role stereotypes. Therefore we invite both genders to our workshops in order to create a successful gender and generation dialogue.
For more information, questions or collaborations, please feel free to contact us: projekt.geschlechterrolle@d-fr.de
"Geschlechterrolle vorwärts" is funded by the German Federal Ministry for Family Affairs, Senior Citizens, Women and Youth