Dr. Sibylle von Heydebrand in an interview on a Swiss local television station Telebasel
On Switzerland's report on the implementation of CEDOW and the global disadvantage of girls compared to boys
CSW67 kept us very busy both in the preparation and in the observation, so that we regret to publish the successful television appearance of our Dr. Sibylle von Heydebrand only after CSW67 and the 84th Session of CEDAW.
The interview was conducted in Swiss German and is therefore mainly understandable for native speakers of German. Fortunately Sibylle has written a summary in English so that everyone can read the interesting content. Please note that Sibylle wrote the text immediately after the interview.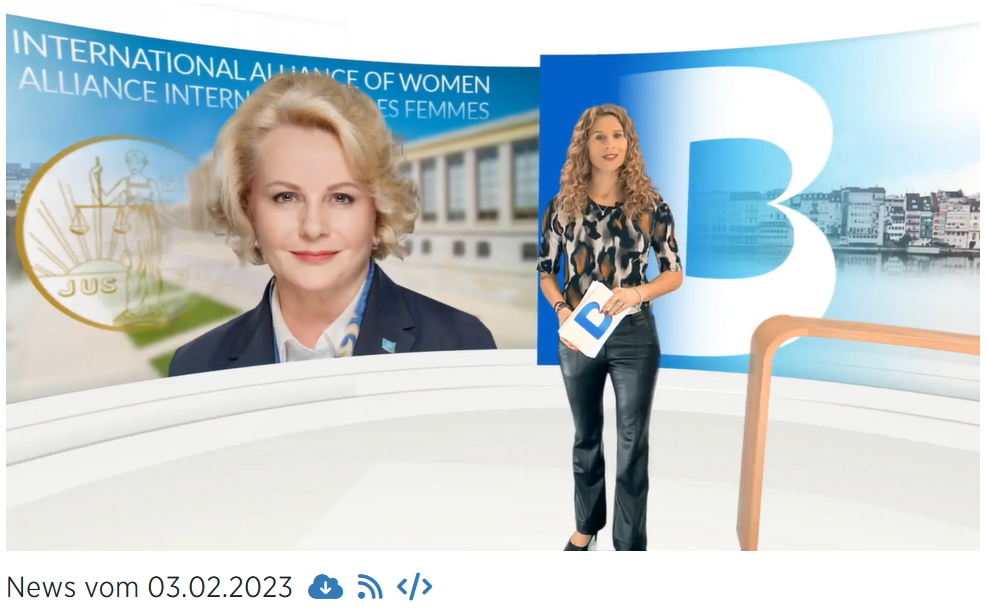 On the occasion of the start of the 84th session of CEDAW (Convention on the Elimination of All Forms of Discrimination against Women) on February 6, 2023 at the UN Geneva, the local TV station Telebasel invited me to talk to journalist Julia Schwamborn.
As the main representative of the International Alliance of Women at the UN Geneva, I will attend the 84th CEDAW session.
CEDAW has been signed by all UN states with few exceptions. With the signing, the states commit themselves to report regularly on the implementation of CEDAW.
Switzerland reported in October 2022. The CEDAW Committee has subsequently highlighted a number of concerns, including
the political participation of women in parliament: although women make up 42% of the National Council, they make up only 26% of the Council of States;
Child marriages: although marriage is only permitted from the age of 18, nevertheless the marriage of well over 100 underage girls is approved every year on the basis of a so-called balancing of interests;
Women farmers, rural women work an average of 60 hours per week. According to estimates, however, only 30% of them are paid and covered by social insurance.
In the interview, I also highlighted the particularly vulnerable situation of girls worldwide:
Girls under five are three times more likely to be affected by malnutrition than boys under five.
There are almost twice as many girls worldwide (96 million) who can neither read nor write than boys (57 million).
Every day, 25,000 girls are victims of forced marriage.
Pregnancy is the leading cause of death among 15- to 19-year-old girls.
50% of sexual assaults in the world involve girls under 16.
Finally, I pointed out that women of all political backgrounds are working to eliminate discrimination against women and girls. This issue affects all of society and belongs on the agenda of every political party.
The interview was conducted in Swiss German on Friday, February 3, 2023.