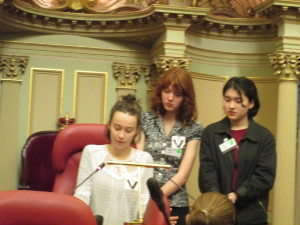 The longest standing Australian member organisation with IAW is The League of Women Voters of Victoria and today at a forum held at the Parliament of Victoria its 70th Anniversary was celebrated.  
On 8 August 1945 The League came into being and its first President was Mrs Julia Rapke MP.    A major focus throughout its history has been to encourage young women to learn about and become involved in political issues, to meet politicians and to understand parliamentary processes.   Alliance members who attended the 2012 International Meeting in Melbourne will remember the session on  Human Rights and Seniors' Rights enthusiastically presented by students from two high schools.
Today the theme was My Vote My Voice 2015 and we were all seated in the ornate Legislative Council Chamber of the Victorian Parliament.    The opening address was given by Safa Al Marhoun, Youth Commissioner, Victorian Multicultural Commission, and the tone for the debate was set by two articulate and passionate senior students.    Five schools were ably represented by young women speaking on a variety of issues with a strong overriding theme of gender equality.    Panel responses followed.
The day was also tied to Beijing+20 and three special guests who had attended Beijing 1995 spoke briefly – Anne Walker, former Executive Director of the International Women's Tribune Centre in New York, spoke of the opposition to the Beijing Platform for Action;  Dr Helen Hill, Education Adviser, East Timor, saw sustainable agriculture as a basic human right, and Yueying Wang  recalled her awakening to women's rights.