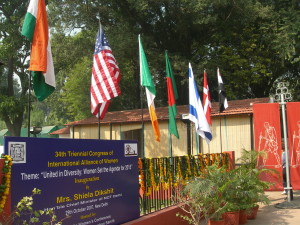 Statement submitted to the American University :
The International Alliance of Women ( IAW ) is an international non-governmental organization that works to promote women's human rights around the world. The basic principle of the IAW is that full and equal enjoyment of human rights is due to all women and girls.
IAW is one of the oldest, most prestigious and influential international women's organizations lobbying for women's rights. The organization was founded in 1904 in Berlin by Carrie Chapman Catt, Millicent Fawcett and other leading feminists with the aim of campaigning for women's suffrage.
Today its membership consists of about 50 organizations world-wide as well as a large number of individual members. Since 1947, the IAW has had general consultative status with the United Nations Economic and Social Council, the highest UN status possible for a non-governmental organization, and the 4th organization to be granted this status. Consequently IAW has permanent representation at the UN Headquarters in New York, at the UN Offices in Geneva, Vienna, and Nairobi and at the following UN specialized agencies: WHO, FAO, UNESCO, ILO and ESCAP. Furthermore IAW has representatives at the International Criminal Court, the Arab League, the African Union, has participatory status with the Council of Europe and is a member of the European Women's Lobby, the largest umbrella organization of women's associations in the European Union, representing a total of more than 2500 organizations
IAW's commissions work on a number of issues that have to do with women's human rights such as health, climate change, peace, violence against women, human rights, democracy, gender and the financial crisis, and undertake initiatives in their field of work. The Regional Vice Presidents and Regional Coordinators follow developments in women's human rights at the regional level. Each year the IAW publishes a booklet with the reports of the work of its office holders and organizations
The IAW advocates for women's human rights all over the world, in particular where serious violations of women's human rights take place. For example IAW recently sent a letter to the President of Nigeria, GoodLuck Jonathan concerning the abduction of more than 200 schoolgirls by the extremist organization Boko Haram, urging the President to rescue the girls, prosecute the perpetrators and take measures for the safety of all girls in his country. Similarly IAW sent letters to the Minister of Human Rights of Yemen Hoorya Mansour to support her in her efforts to combat child marriage and to the President of Spain, Mariano Rajoy asking him to withdraw a bill on restrictive abortion, which would seriously undermine women's right to decide freely about their maternity .
IAW works with organizations of the MENA region on the issue of sexual violence as a weapon of war and the implementation of SC Resolution 1325.
It is also working on the following issues:
Solutions that women can bring to climate change, women and the right to food, the impact of the economic crisis in particular of austerity measures on women , maternal mortality and human rights, women's sexual and reproductive health and rights, women in power.
We have participated in the 16 Day Campaign on Violence against Women 2013 organised by the Center for Women's Global Leadership